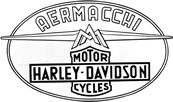 Welcome to Moto Italia
New and used parts for Italian built Harley-Davidson Sprint motorcycles.
Moto Italia (formerly located at motomacchi.com) features a huge inventory of parts for Aermacchi and lightweight Harley-Davidson two-stroke and four-stroke motorcycles.
Moto Italia has been in the Aermacchi Harley-Davidson parts business since 1985. Our inventory consists of over 1/2 million dollars in new Aermacchi Harley-Davidson parts and accessories. Our stock has grown from sources in the United States, England and Italy. A few of the highlights of Moto Italia's collection are a 1964 250cc CRTT Sprint, a 250cc Chimera, a "Dale's Harley Shop" 1975 SX-250 Desert Racer (prototype MX-250) and production version MX-250.
Throughout this website, you will find graphics of Aermacchi and/or Harley-Davidson motorcycles, however, we are not affiliated with the Harley-Davidson Motor Company or Aermacchi. We are an independent shop.
Original Reproduction Decals